A Closer Look at the 2017 Ram 1500
Finding the right pickup truck is crucial if you want to add some ease to your workload around the Franklin, Greenwood, and New Whiteland areas. While there are many notable trucks out there, the Ram 1500 has proven itself among the competition. To help you learn more about this truck and what it can do, our experts at Fletcher Chrysler Dodge Jeep Ram are going to delve in a little further to show you what this truck is really all about.
This 2017 Ram 1500 review will focus on the important factors that you need to know when choosing your next pickup truck. We'll be taking a look at the engine specs and options, towing and payload, and even truck configurations. Our pickup truck review will help you determine if this is the vehicle that you've been looking for.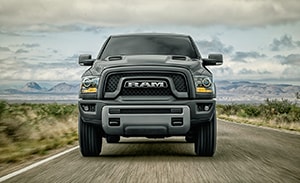 2017 Ram 1500 Engine Specs & Options
The 2017 Ram 1500 has several degrees of power for you to choose to optimize your truck the way you see fit. The base level truck comes equipped with the 3.6L Pentastar® V6. The Ram 1500 offers the 3.0L EcoDiesel V6 as an option for a boost in torque. However, the 5.7L HEMI® V8 has the highest output of all the engine options. Each of these engines comes paired with an 8-speed automatic transmission that provides distinctive drive modes to help you redistribute power when you need it.
Engine                                                  Horsepower                      Torque
3.6L Pentastar® V6                          305                                         269 lb-ft
3.0L EcoDiesel V6                             240                                         420 lb-ft
5.7L HEMI® V8                                   395                                         410 lb-ft
Towing & Payload
The Ram 1500 has some notable abilities when it comes to towing and payload. However, depending on which engine you select, the abilities to haul some hefty cargo will alter. It's no secret that the 5.7L HEMI® V8 can pull more than the base level engine, but each engine option has its advantages.
Engine                                                  Towing                                 Payload
3.6L Pentastar® V6                          7,580 lb                                                1,860 lb
3.0L EcoDiesel V6                             9,000 lb                                                1,580 lb
5.7L HEMI® V8                                   10,390 lb                              1,710 lb
Cab & Bed Truck Configurations
The Ram 1500 offers the convenience of choosing your truck configuration, so you can tailor it to your needs. If you're looking for more passengers, you may want to consider opting for the Quad Cab or the Crew Cab, both of which can seat six passengers. The Regular Cab only offers enough seating for three passengers.
Depending on your cab option, your bed option will change. The Regular Cab allows you to choose between an 8-foot bed and a 6-foot, 4-inch bed. The Quad Cab comes standard with a 6-foot, 4-inch bed, and the Crew Cab offers either the 6-foot,4-inch bed or the 5-foot, 7-inch bed.
Seeing the 2017 Ram 1500 Up Close
Now that you're familiar with the 2017 Ram 1500 and its impressive abilities, you're ready to take the next step. We encourage any drivers who are looking to learn more about the Ram 1500 to come by and see it in-person. You can help solidify your decision by taking this truck out for a spin around the block, so you can see what it can really do.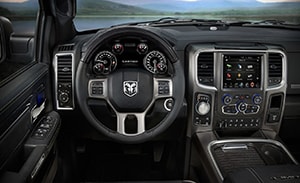 Fletcher Chrysler Dodge Jeep Ram is proud to provide drivers in the Franklin, Greenwood, and New Whiteland areas with the necessary resources to help them decide on the right vehicle. Click here to schedule your test drive on the Ram 1500!