2019 marks a great year for pickups, and that's probably best exemplified with the new Ram 1500 and Ford F-150. Both of these trucks offer incredible capability that's sure to get the job done in the Franklin, Greenwood, and New Whiteland areas. Which one would work best for you? Find out in our comprehensive 2019 Ram 1500 vs. 2019 Ford F-150 comparison.
Top Engine Power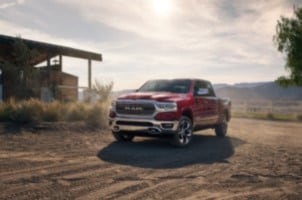 One of the best ways to spot the differences between these two vehicles is to take a peek under the hood. With the F-150 you'll have five different options, which can make finding the right one that much more challenging. The 2019 Ram 1500, on the other hand, only features three options all of which are impressive.
The top-level engine on either truck will offer up to 395 horsepower, but the torque is substantially different. This is thanks to the Ram's available eTorque add-on. This hybrid-like engine is able to add an extra bit of torque at times bringing the grand total to 540 lb-ft compared to the F-150's 470 lb-ft of torque on its best model.
Capability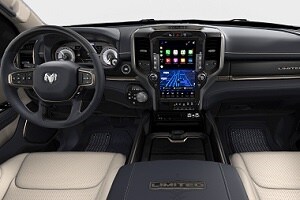 With a pickup truck, one of the most important aspects of any engine is contributing to the maximum towing capacity. For some drivers, the minimum towing capacity is essential as well especially if they're not planning to go up too far in trim levels. The base engine of the 2019 F-150 is no better than some SUVs with a towing capacity of 5,000 pounds. By comparison, the Ram 1500's base engine can tow 6,250 pounds with no add-ons.
When it comes to maximum V8 towing, the Ram 1500 is the best in its class. When properly equipped its V8 engine with eTorque can tow up to 12,750 pounds. Meanwhile, the F-150's towing capacity was maxed on its V6, so you have to sacrifice horsepower for capability. The F-150's V8 towing capacity can only handle 11,600 pounds.
Highway Efficiency
It's no secret that pickup trucks are big and bulky. That's why it's so important that you opt for a model with the aerodynamics and features necessary to maximize efficiency as much as possible. The F-150 is more efficient than most in that regard thanks to its aluminum alloy frame that considerably reduces the overall weight.
When it comes to the 2019 Ram 1500, however, you won't find better efficiency features. The aerodynamic hood design is just the beginning. There's an active air dam that will extend downwards when driving to reduce drag. Additionally, the air suspension system will lower your entire truck as you approach highway speeds to achieve the best drag coefficient in its class.
Learn even more about what the best truck has to offer with the 2019 Ram 1500 review!
2019 Ram 1500 vs 2019 Ford F-150 Verdict
While our 2019 Ram 1500 vs. 2019 Ford F-150 comparison was close, the Ram 1500 reigns supreme overall thanks to its rugged capability and unrivaled efficiency. You can see all of this for yourself at Fletcher Chrysler Dodge Jeep Ram if you live in the Franklin, Greenwood, and New Whiteland areas. Give us a call to schedule your test drive today!