Who doesn't want a new car? Of course we all do, but when you're on a budget and need to make the most of it, you may find yourself wanting a pre-owned car. That in mind, it's only fitting that great used car deals come out of the city that's known for its love of automobiles. In an article for WallStCheatSheet.com, writer Frank Carson explains why dealers in Indianapolis of used cars offer more value and make buyers feel at ease.
Used cars are always cheaper than new cars; time and previous ownership has lowered the value of a used car even if it's in like-new condition, and you can save a great deal of money just buy (sic) purchasing your dream car in used condition.
One for the record books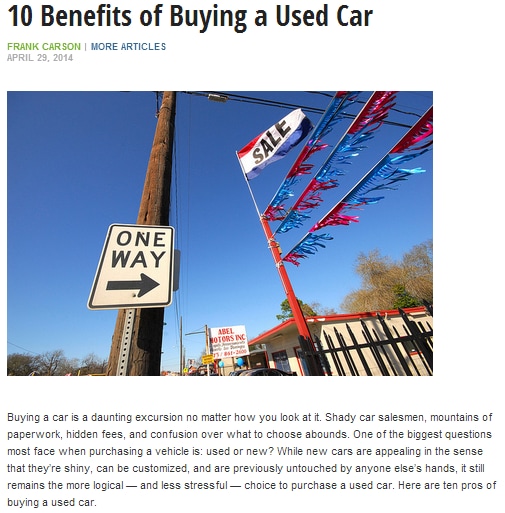 Buying a used car from any dealer- not only from the used car dealerships in Indianapolis- can be a great experience. Dealers like Fletcher Chrysler have the manpower and resources to maintain the vehicle. They are also able to provide service records for your scrutiny.
One pro of buying a used car from a car dealership is that many are certified. This means that the used vehicle comes with a service guarantee and an extended warranty, just like a new car would.
Not a hot target
Owners of second hand vehicles can sleep well at night knowing their car isn't on many auto thieves' list. Nobody plans for this, but if it keeps the burglars away, then we're good with it. Just the same, it's good to maintain some security features.
New cars are often targets for thieves and burglars, while an advantage of having a used car is that it looks more inconspicuous and less tempting to potential criminals on the street.
Great to be appreciated
It's a fact that new cars can depreciate up to 40% within the first three years. This means if you decide to sell it, you can only get a price that's way lower than what you paid. On the other hand, a well-maintained used car could be sold for close to what you spent for it, since it has already appreciated.
At the end of the day, you'll be getting from point A to point B without paying more than you have to. That's why we love used cars more than new.
(Article Excerpt and Image from
10 Benefits of Buying a Used Car
, http://wallstcheatsheet.com/stocks/10-pros-of-buying-a-used-car.html/?a=viewall)