You've been dreaming of your new set of wheels for quite some time now. You think you've got what it takes to buy a new Dodge from Indianapolis dealers who offer financing? Is your credit score good enough for the banks? In an article for Investopedia.com, writer Ben de Meter discusses what options you can take to score your shiny new ride.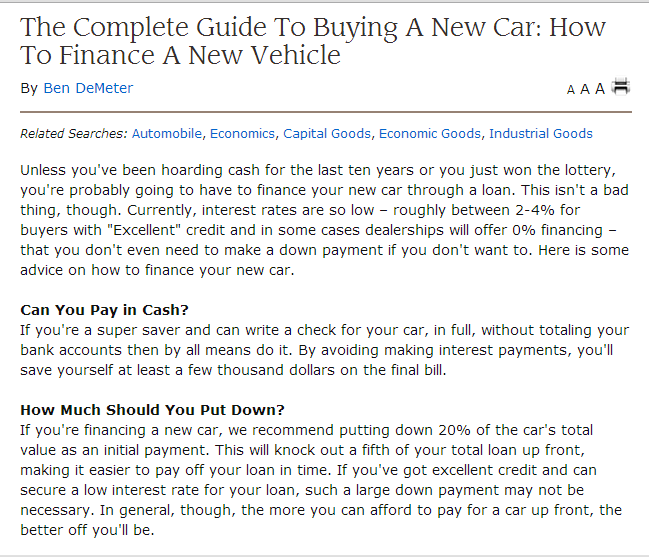 Spend cash to save cash
If you've inherited a massive fortune or won the lottery, by all means purchase your vehicle by paying cash up front. No worrying about interest payments and extra charges here - the amount of cash you can save by making a straight purchase will amaze you.
Financing doesn't cost a fortune
In negotiating the upfront amount, keep in mind this simple rule: a large initial payment will make your monthlies smaller and more manageable. So if you've got some funds to spare, then bulk up your loan up front. You'll feel the difference when you cut the check at the end of each month.
If you're financing a new car, we recommend putting down 20% of the car's total value as an initial payment. This will knock out a fifth of your total loan up front, making it easier to pay off your loan in time.
Finding a loan lender
Banks, dealerships, and credit unions offer car loans, but not under the same conditions. A good credit score will definitely help here. Credit unions will only process loans for their members. Whether it's a bank or one of the Dodge dealerships in Indianapolis like Fletcher Chrysler who ends up financing your car, the point is to work the numbers in your favor.
After shopping around different lenders, you should choose the loan with the lowest interest rate. You will also have to choose how long of a term you want for your loan. Most auto loans come with three, four or five-year terms. If you can afford it, go with a three year term. Your monthly payments will be higher but your total cost will be lower.
Once you've driven the car off the lot, make the most of it but don't forget your responsibilities as a car owner. The better you take care of it now, the higher you can sell it for in the future if you choose to.
(Article Excerpt and Image from The Complete Guide To Buying A New Car: How To Finance A New Vehicle, Investopedia.com)