If you've just acquired your driver's license, chances are that you're itching to get behind the wheel. In fact, you may be itching to get behind the wheel of your own car.
If your parents have agreed to buy you one, they may have told you to start looking for used cars in Indianapolis. If so, here is a quick guide to get you started: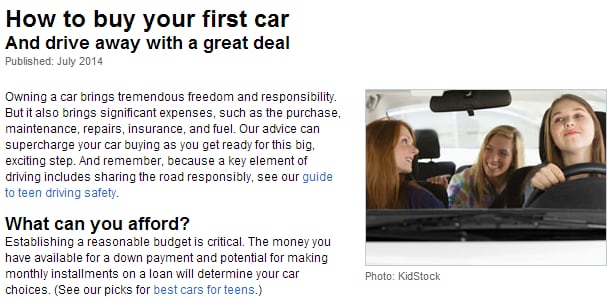 Safety First
It's tempting to choose the coolest car in the lot, but try to resist the urge to force your parents to buy you cars like those. Instead, do the responsible thing by choosing a vehicle that is known for its safety ratings.
Conduct an online search for the safest car. In particular, look for vehicles that garnered exceptional safety ratings from the Insurance Institute for Highway Safety (IIHS). An article from Consumer Reports also suggests looking for vehicles with the following safety features if possible:
Antilock brake system (ABS): Readily available, antilock brakes prevent the wheels from stopping completely during hard braking. Because the wheels do not lock up, even during emergency braking on slippery surfaces, they enable the driver to retain steering control.
Electronic stability control (ESC): This feature prevents a car from rotating, such as when going through a turn a bit too fast for the conditions. ESC can be especially welcome in bad weather. All new cars and light-duty trucks now have ESC. On older cars, ESC may have been optional. Make sure the specific used car you're buying has it.
Head-protecting side air bags: Side and side-curtain air bags have been shown to provide real protection in a side impact, such as when T-boned by another car crossing an intersection.
VIN Search
Take the time to look around the dealership and list down the Vehicle Identification Number (VIN) of cars that interest you. Once you get back home, run a VIN search to see the accident and repair history of a car. Needless to say, try to avoid cars that have seen extensive or frequent damage.
Test Drive
Driving a Chevrolet sedan is different from driving a Chrysler sedan. Before you finalize any purchase, ask to test drive a vehicle. If you cannot maneuver it comfortably during the test drive, play it safe and try looking at other vehicles.
Lastly, when looking for cars for sale in Indianapolis, try to do business with a trusted dealership like Fletcher Chrysler Products. A long-standing dealership is likely to have a variety of options for you to choose from, as well as experienced agents to help you find a safe vehicle to drive.
(Source: How to buy your first car; ConsumerReports.org; July 2014)