Buying a used car is an ideal option for any family who wants to stay on budget. However, according to New York's CBS Local staff, a recent survey reveals that parents and teenagers have contradicting views on what to look for in used cars.
3 percent of parents who purchased vehicles for their teens bought used cars, but as CBS 2's Dick Brennan reported, not all used cars are equal.
What young people say is important when buying a car could make a parent shudder.
"I'm definitely into fast cars, so yeah that's pretty important," said Richard Cricola.
"I don't want to speed, but I want a car that can go pretty fast, yea," said Chris Keating.
Parents on the other hand say they have a different agenda.
"Safety would be first, nothing fast and furious," said one parent.
Blame it on music videos or popular films like the Fast and the Furious franchise, but teenagers gunning for high speeds meant not to be used outside of Indy 500 race tracks may not be the best idea. Here is a brief look at the safety features parents should have in mind when shopping for used cars for sale in Indianapolis for their teens: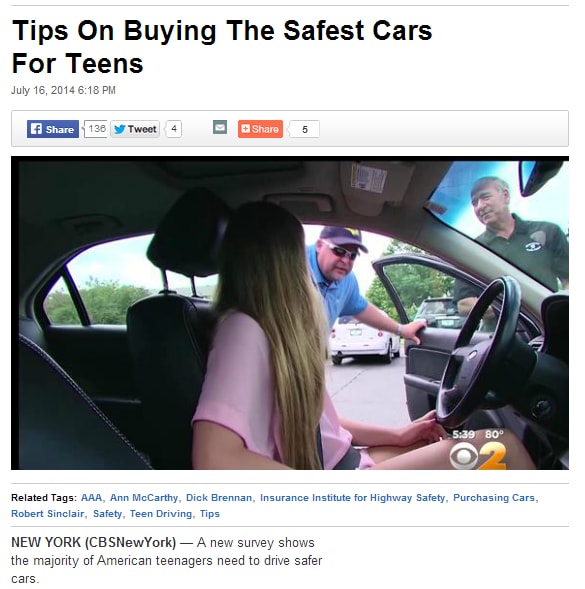 Electronic Stability Control (ESC)
ESC is not entirely a new technology (it was introduced in the 1990s by a German auto manufacturer), but only a few people may be aware of this. This safety feature works by employing other components like traction control and anti-lock braking systems to confront potential problems. Basically, ESC is designed to keep the vehicle stable in the event of danger. Chrysler Town and Country vehicles have this feature.
Blind Spot Detection
Chrysler introduced this technology back in 2009, and it's now standard for most of their vehicles. Basically, this feature will assist drivers by keeping a close eye on their blind spot. If the system detects a rampaging vehicle on the blind spot, it will use a visual signal to alert drivers so they can act appropriately.
Rear Cross Path Detection
This feature was also introduced around the same time as the blind spot detection. Rear cross path detection is mainly designed to make parking or getting out of visually impaired parking spots easy. If there is a car blocking the way, the system lets out an audible signal to warn the drivers.
These days, safety when driving can't be ignored. Fortunately, parents who intend to purchase used cars in Indianapolis for their teens can watch out for these vital safety features. For a closer look, they can go to respected car dealers like the ones from Fletcher Chrysler Dodge Jeep RAM to help them out.
(Source:
Tips On Buying The Safest Cars For Teens
,
Newyork.cbslocal.com

, July 16, 2014

)