Is your teen ready for his/her own ride? Trusted car dealerships in Indianapolis may just have the vehicle that you and your teen would love.
Used Cars
For a new driver, a used vehicle could be the practical choice, considering safety and cost factors. Several older models are sturdier than new releases, and a number of safety tests and drivers can attest to their reliability. As inexperienced teens develop their driving skills, they don't need all the bells and whistles of new fancy cars, so an affordable yet versatile vehicle is a solid choice.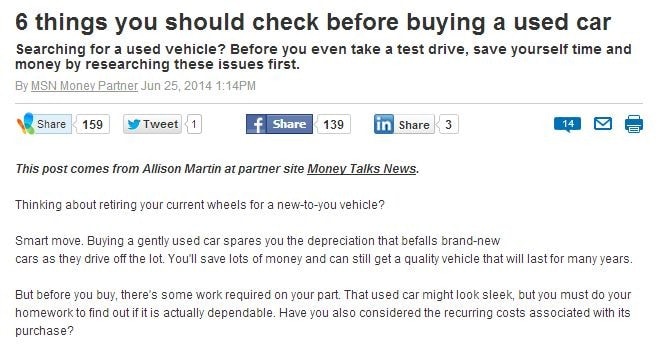 Writing for MSN, Money Talks News correspondent Allison Martin discusses some key considerations in buying used cars.
"Have you ever bitten into an apple, only to be disappointed that it was brown and mushy to the core? The same principle applies to cars. It may be shiny and you can just picture yourself sitting in the driver's seat cruising down the road. But after a few drives, you may realize it's just not the right fit for you or that its performance disappoints.

Later on, you may find that the cost of repairs is prohibitive.

You can learn a lot about these issues before you even get behind the wheel. So, before you even go for a test drive, check reviews and other sources of information on the Internet."
Since you may be paying for most, if not all, of the car expenses, consider overheads in addition to upfront costs. Factor in taxes, insurance premiums, gas prices, maintenance fees, etc. Find a vehicle that comes with lower expected maintenance costs, even at a slightly higher purchase price.
New Cars
You can also buy new cars that have been manufactured specifically with the safety and enhanced experience of new drivers in mind. DMV.org recommends smaller engines to discourage high-speed driving. Look for average-sized vehicles, as smaller cars may offer less protection in crashes or collisions, while bigger ones could be more difficult to maneuver. Ensure that the car has standard safety features like air bags, anti-lock brakes, and electronic stability control.
A Dodge and Chrysler dealer in Indianapolis like Fletcher Chrysler Dodge Jeep RAM offers used and new cars that can suit the needs of a teen driver. With comprehensive vehicle information, quality checks, and test drives, you can make an informed decision that will put your mind at ease while your teen enjoys the wheels.
(Source: 6 things you should check before buying a used car, MSN, June 25, 2014)