Thanks to growing number of used cars for sale, more people are getting better opportunities to have their own car. Chief Economist Tom Webb of Manheim Consulting, a market research firm that has been following the used car industry for some time, says the rise in sales of used cars can be attributed to various factors, such as low interest rates and more accessible credit. As CNBC's Phil LeBleu writes, 2014 will be a good year for used car sales overall:
"With the U.S. economy improving while dealers and banks are writing auto loans to a wider array of buyers, used vehicle sales from franchised dealers will reach their highest level since 2005.

"Last year, franchised dealers sold 15.6 million used vehicles," said Webb. "I think it's reasonable to expect 16 million in sales this year."
Car buyers in Indiana are encouraged to visit renowned Indianapolis used cars dealerships to find the best deals. Franchised dealers, such as Fletcher Chrysler Dodge Jeep RAM, offer the best vehicles from the most sought-after brands, without the price tag of a brand-new model. Previously, the main attraction for used cars lay on their affordability, but nowadays, many buyers purposely look for older models for their distinct features.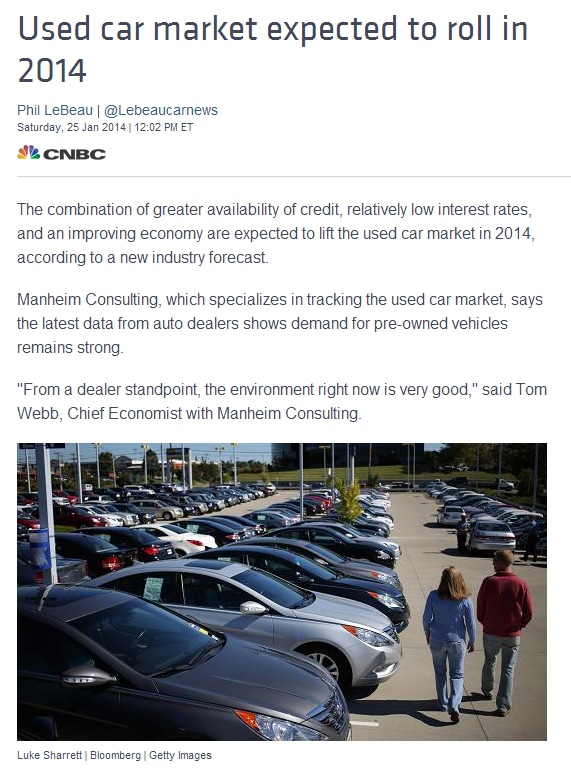 A big contributing factor to the attraction for older models is the Certified Pre-Owned (CPO) programs instituted by most car manufacturers. As LeBleu writes:
"Last year, auto dealers sold 2.1 Certified Pre-Owned vehicles, a testament to the popularity of programs designed to assure customers that the used cars and trucks they are buying have been given a thorough check-up and are backed by dealers.

This year, certified pre-owned vehicle sales are projected to reach 4 million according to Manheim."
Through CPOs, buyers can rest easy knowing that the pre-owned vehicle they have set their eyes on are relatively new, have low mileages, and are in excellent condition. Chrysler's CPO program, in particular, as offered by leading dealers such as Fletcher Chrysler Dodge Jeep RAM, ensures that every pre-owned vehicle their dealerships carry goes through a rigid 125-point inspection process.
In addition to this, buyers are also given various financing options by trusted new and used car dealerships in Indianapolis and elsewhere. Through these financing arrangements, anyone can secure the car they have always wanted, whether the latest model or an older one, under terms that suit their financial abilities and preferences. Buyers should also be on the lookout for price drops on used cars that dealerships offer from time to time.
(Source: Used car market expected to roll in 2014, CNBC, January 25, 2014)