One of America's rarest and most iconic cars is making a comeback this year. As reported in Autoweek Daily Drive, Chrysler Group LLC has announced that the production of the coveted Dodge Viper SRT will resume this July, following a two-month long hiatus. Some experts believe that the interruption was caused by the previous winter season, which slowed down U.S. car production overall:
"The restart of production will be a welcome sign for the Viper, whose production had already been sliced by a third in October 2013 for the same reasons as during this latest hiatus. Before October 2013, Chrysler had been building an average of nine Vipers per day, but production was expected to come down to an average of six examples per day after those cuts."
With this announcement, people can expect a greater number of Viper SRTs available from their favorite Indianapolis Dodge dealers soon. At present, dealerships like Fletcher Chrysler Dodge Jeep RAM still offer 2013 productions. Viper's niche audience will expectedly be looking forward to the 2014 edition, but fans of this supercar will find a lot going in last year's variant that will encourage them to take it for a spin.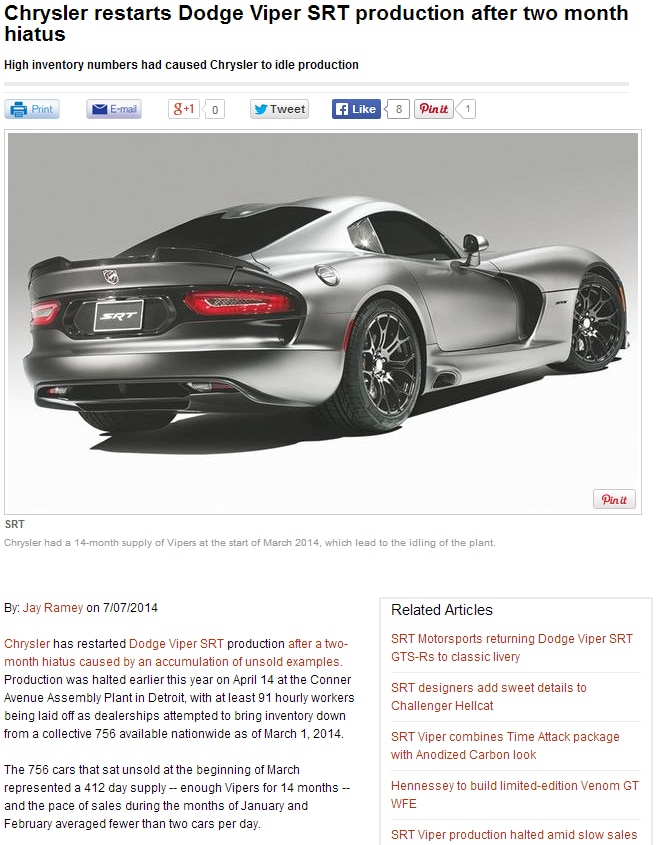 For starters, the 2013 Viper is technically an all-new design, unlike the 2012 version that only introduced minor changes from previous Viper models. The 2013 Viper has an 8.4L V10 engine, rear wheel drivetrain, and 6-speed manual transmission. With a horsepower clocking in at 640 at 6200 rpm, it is one of the most powerful supercars in the world today. 'Luxury' can also be associated with the 2013 Viper, with its sleek aesthetics, touchscreen display, and state-of-the-art navigation and electronics systems.
The icing on the cake is that the 2013 Viper also has some features that make it appealing to non-gearheads. The car has a sizable rear storage compartment similar to Japanese sedans that can hold multiple grocery bags in a pinch. In addition, the 2013 version can accommodate taller drivers better than the 2012 or older Viper models.
Perhaps the only thing that can be counted against the 2013 Viper is that it doesn't have an automatic transmission, making it inaccessible to novice drivers. Then again, the car's power features and sleek performance have not been designed with novice drivers in mind.
A trusted Dodge dealership in Indianapolis can help those dreaming to be a proud owner of the Viber with financing options that will match their preferences. With the 2014 version in the pipeline, expect to see more of this iconic supercar hitting the streets in the near future.
(Source: Chrysler restarts Dodge Viper SRT production after two month hiatus, Autoweek Daily Drive, July 07, 2014)