Crossover utility vehicles (CUVs), or simply "crossovers", combine the legroom of a family wagon and the looks of an SUV. This compromise helps reduce the price while increasing practicality, making it one of the hottest vehicle categories in today's market. Cadillac, for instance, planned on making two new CUVs as high and low-tier counterparts to its current CUV, the SRX.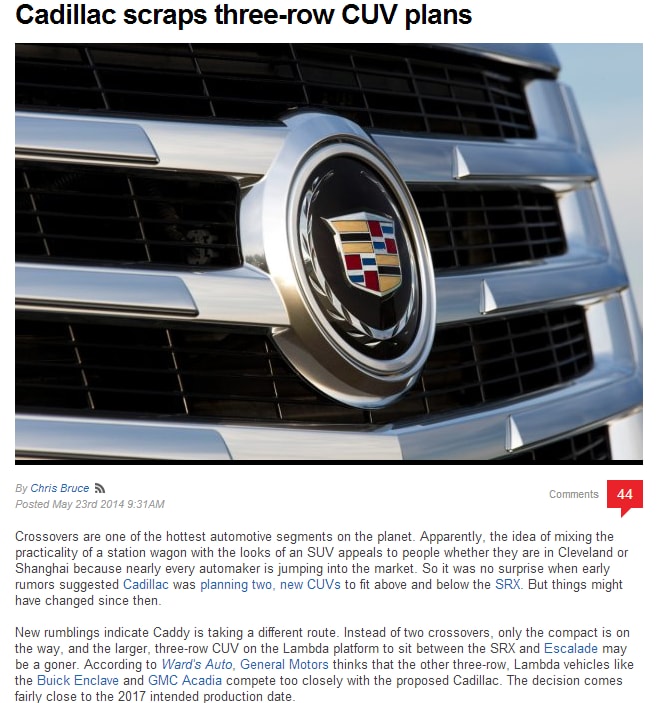 However, in a decisive reversal, Cadillac announced that it was foregoing this plan, first reported in 2013. Chris Bruce of Autoblog, quoting a report from WardsAuto.com, writes:
"New rumblings indicate Caddy is taking a different route. Instead of two crossovers, only the compact is on the way, and the larger, three-row CUV on the Lambda platform to sit between the SRX and Escalade may be a goner. According to Ward's Auto, General Motors thinks that the other three-row, Lambda vehicles like the Buick Enclave and GMC Acadia compete too closely with the proposed Cadillac."
Had CUVs not become an option, car buyers may now be finding themselves looking into either a station wagon or an SUV. Recent trends show, however, that outside of CUVs, SUVs are fast taking over the market for station wagons.
To be accurate, station wagons, as parents of today's generation knew them, are getting scarce. They used to be popular between the 1950s and 1970s, but never fully recovered from the oil crisis of 1973. As a result of that crisis, fuel economy standards took center stage in vehicle selection, leaving the wagons and their V8 engines at a marketing disadvantage.
Nevertheless, their legacy continues in several types of new and used cars in Indianapolis and other places. Their spacious designs have been incorporated in SUVs like the Buick Enclave and GMC Acadia. Even sedans have adapted the designs, resulting in hatchbacks such as the Fiat 500 and Kia Soul.
The station wagon also found its way to become more fuel-efficient vehicles. The 2013 Buick Enclave is one example. It is a popular notion that SUVs are gas guzzlers, which may have been true for models built decades ago. With the new federal fuel economy standards, however, many SUVs like the Enclave have fuel economies of around 20 mpg.
Today, there are only spacious and more spacious cars for sale in Indianapolis car dealers like Fletcher Chrysler Dodge Jeep RAM. Cadillac may not get its new CUV by 2017, but it has other makes offering enough legroom.
(Source: Cadillac scraps three-row CUV plans, Autoblog, May 23, 2014)