Indianapolis Jeep fans clamoring for the diesel Jeep Cherokee may just have to wait a little longer...or perhaps, consider the diesel Grand Jeep Cherokee instead.
At Chrysler's Proving Grounds in Chelsea, MI, Jeep CEO Mike Manley told Larry Vellequette of Automotive News and other reporters that bringing in the diesel Jeep Cherokee version, currently sold in the European market, is not happening anytime soon. At least, not until sales of the diesel Grand Jeep Cherokee doubles its present 8% share of all Grand Cherokee sales in the U.S.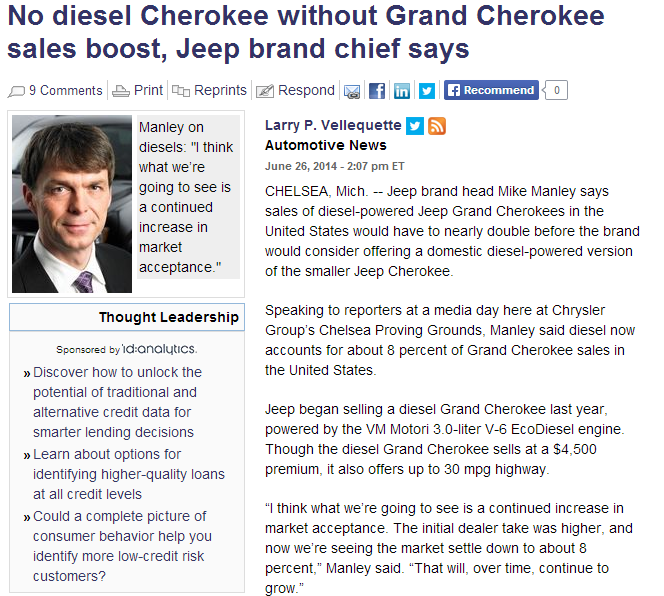 Long story short: Manley wants more love for the diesel Grand Jeep Cherokee. As Automotive News reports:
Jeep began selling a diesel Grand Cherokee last year, powered by the VM Motori 3.0-liter V-6 EcoDiesel engine. Though the diesel Grand Cherokee sells at a $4,500 premium, it also offers up to 30 mpg highway.

"I think what we're going to see is a continued increase in market acceptance. The initial dealer take was higher, and now we're seeing the market settle down to about 8 percent," Manley said. "That will, over time, continue to grow."
EcoDiesel, officially the 3.0-liter turbodiesel DOHC V6, won a spot in Ward Automotive's Ten Best Engines of 2014. Made by Italian diesel engine maker VM Motori, the engine achieves a fuel economy of 21-22 mpg city and 28-30 mpg highway, according to Car and Driver.
Jeep fans have been clamoring for the diesel variant of the Cherokee due to its idealness for off-road terrain. Diesel fuel contains more energy per gallon (147,000 Btu) than gasoline (125,000 Btu). This results in more power per combustion cycle, which also leads to better mileage per unit of fuel consumption.
However, sales from reputable Indianapolis Jeep dealers, like Fletcher Chrysler Dodge Jeep RAM, show continued popularity of the gasoline variant, most likely because of their lower selling price, as well as the lower cost of gasoline compared to diesel. Recent price data from the U.S. Energy Information Administration show that gasoline ($3.614 per U.S. gallon) costs almost a quarter less per gallon than diesel ($3.862 per U.S. gallon) in the Midwest.
Emission standards are also worth considering. A 2012 study by the University of California Berkeley supports the well-known fact that gasoline burns cleaner than diesel; hence, the effort to introduce cleaner combustion. With the introduction of flex-fuel engines, which are present in Grand Cherokee gas models, emissions are reduced even further.
However, the added mpg of diesel variants also makes for an irresistible attraction. Given this, it won't be surprising to see more of the diesel Jeep models in trusted Indianapolis dealerships very soon, giving costumers more quality options to choose from.