Affordability may be the number one reason why more people are buying used cars these days. However, some vehicles - such as pickup trucks - are chosen for a lot of things other than economy. Usually, these qualities do not lose value, even if the car has seen better days.
Are you buying used cars in Indianapolis? Here are some factors that make picking pickup trucks a good move: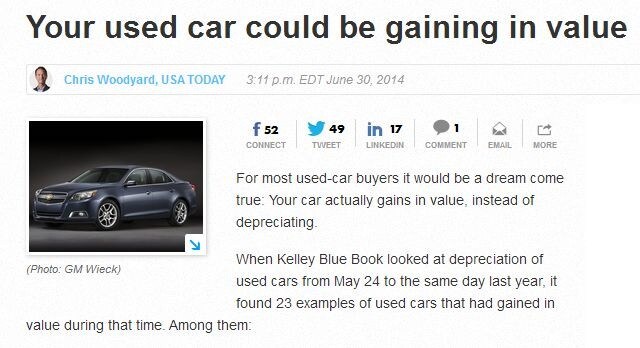 Visual Appeal
Pickup trucks have a distinctive personality. The heavy-duty engines and elevated cabs are often associated with power or superiority on the road, while the tough exteriors give a no-nonsense impression. Owners of pickup trucks are usually thought of as resilient individuals who don't mind getting their hands dirty from time to time. Luxury pickup trucks are also being patronized by sophisticated drivers.
Variety
You have a lot of choices when it comes to these haulers. There are two main types to choose from, namely compact and full-sized, based on the cabin and bed size, and vehicle capacity. Bigger vehicles can be used for larger or heavier loads. Various manufacturers or brands also produce truck model series or models with unique features for different lifestyle and utility needs.
Value
Unlike sedans or SUVs that usually depreciate at a fast rate, the suburban truck variety fares well when it comes to value retention. In an article for USA Today by auto industry reporter Chris Woodyard, experts explain how used pickup trucks retain or even gain value from time to time.
"When CarGurus.com, an auto buying research website, studied used-car value trends, it found those that were best at retaining value - including some that gained value - were generally pickup trucks. The biggest losers when it came to depreciation were luxury cars.

Pickups "really hold their value," says Langley Steinert, CarGurus.com's CEO. "These are utilitarian. They are not going to be loaded up with options," which used car buyers don't value."
Versatility
Among all the desirable qualities of pickup trucks, versatility is a main draw for buyers. Dealers of used cars for sale in Indianapolis, such as Fletcher Chrysler Dodge, Jeep, RAM, offer top-of-the-line models that are highly rated for their safety and utilitarian advantages. Regularly maintained, this flexible vehicle can be efficiently used in driving with passengers, carrying cargo, or even towing for miles.
(Source: Your used car could be gaining in value, USA TODAY, June 30, 2014)