Chrysler has remained one of the most recognized automotive companies in the world for many years now, and the Detroit-based automaker doesn't seem to have any plans of slowing down. The New York Times (NYT) reports that the manufacturer is enjoying a 22% second quarterly income surge indicating a strong sales performance driven mainly by its Ram and Jeep brands. The article provides more details on the development:
Chrysler said on Wednesday that net revenue for the quarter was $20.5 billion, up a striking 14 percent from a year ago. That was largely driven by sales of its Ram pickups and Jeep brands, which benefited from strong demand as sport utility vehicles continued to enjoy a renaissance among consumers. Chrysler's global sales rose 12 percent for the quarter, and in July, Jeep sales alone were up 41 percent, their best such month ever.




Analysts said that the bets Chrysler had made in recent years, like making Ram its own brand and introducing the Cherokee, a smaller S.U.V., were paying off.




"They really have everything moving forward in the right way," said Karl Brauer, a senior analyst with Kelley Blue Book. "They've positioned themselves extremely well over the last two years, and we're seeing the results of that now."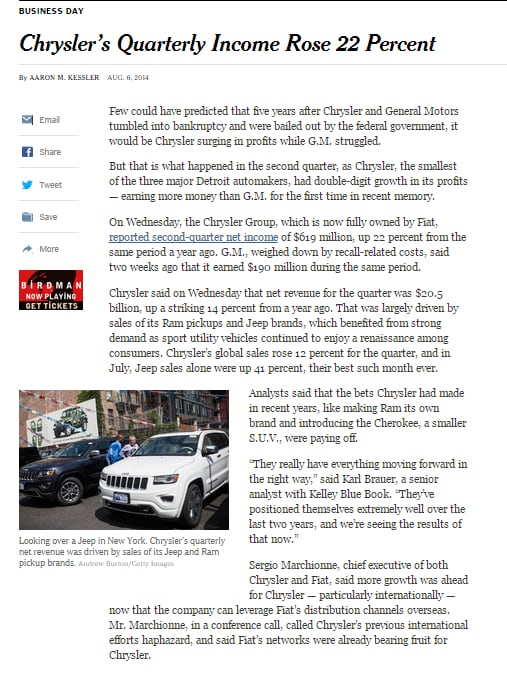 Chrysler's success has solid foundations on the quality of the cars it produces. Its 2014 Jeep Grand Cherokee, for instance, gained rave reviews from test drivers and automotive journalists as being one of the best vehicles in its midsized SUV class. Critics praised its superior off-road performance, tech features, and comfortable, luxurious interiors. Reviews and Rankings even named the model its Best 2-Row Midsize SUV for Families based on its analysis of published reviews, test drives, and safety and reliability data.
This powerful combination of excellent quality and consistently positive real-word reviews has placed Chrysler in a clear leadership position in the industry. In addition, its current profit surge is proof of its firm foothold in the market and the confidence of many consumers in its vehicle lineup. Based on these factors, getting brand new or
used cars from Indianapolis
Chrysler dealers is sure to be a worthy investment for any driver.
Potential buyers
looking for cars for sale in Indianapolis
can experience the exceptional features of Chrysler models from dealerships such as Fletcher Chrysler Dodge Jeep RAM. Such dealers offer both new and used models to satisfy various driving needs, and taking one for a spin is the best way to see why the automaker has continued to stay at the top of its game.
(Source: Chrysler's Quarterly Income Rose 22 Percent, The New York Times, August 6, 2014)