It is said that the American automobile market receives 16 million new buyers every year, and many of them are consumers looking for the heaviest and latest sports utility vehicles (SUVs) to take out for some off-road fun. This is why much buzz is generated whenever a crossover SUV, like the Jeep Compass, enters the scene because they're not meant for this demographic of buyers. As Warren Brown of The Washington Post states in his review of the 2015 Compass, however, crossovers actually have a special niche in the market:
Not everyone needs or wants a rough, rock-crawling sport-utility vehicle with dedicated four-wheel drive. Crossover buyers don't want to pay for the enormous amounts of fuel it usually takes to run those things. The older those buyers get, the less inclined they are to climb into and out of large SUVs with super-high ground clearance. And no matter how well it is engineered, rare is the full-size SUV that is any fun to drive in Washington, New York or other urban cities.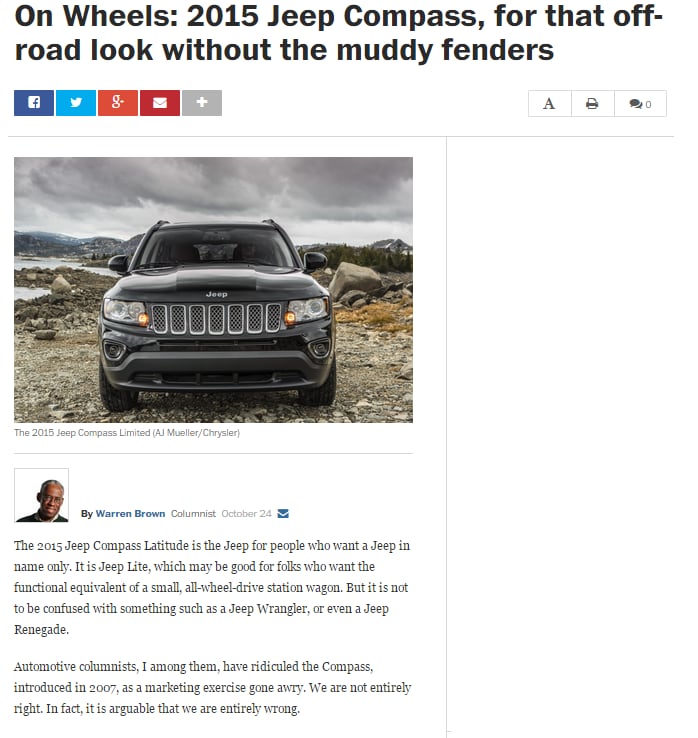 In fact, car experts say that crossovers are the perfect choice for people looking for a vehicle that has the robustness and utility of an SUV, plus the drivability of a standard car. Thanks to
established Indianapolis Jeep dealers
, like Fletcher Chrysler Dodge Jeep RAM, Hoosiers can get their hands on the best crossovers in the market today. It's just that for a more fuel efficient crossover, they are better off driving a 2015 Jeep Compass, which can be equipped with a unique 2.4-liter gasoline engine for greater mileage in highways, than anything else.
Of course, fuel efficiency isn't the only thing going with the latest Jeep Compass. At present, Jeep offers this crossover model in three unique trims, with the Sport serving as the base vehicle, the Latitude boasting added features like a remote engine start system, and the Limited possessing luxuries like antitheft alarms and a 6.5-inch touchscreen display screen. The Sport is also the only trim equipped with a five-speed manual transmission system, although there are rumors that Jeep will be abandoning switching to a nine-speed automatic transmission late in 2015.
Considering that these features are geared towards providing comfort rather than power, a trait usually associated with SUVs, Jeep clearly intends to attract urbanites rather than off-roaders with the Compass. As Brown said in his review, Jeep also plans to introduce two additional trims- the Altitude and High Altitude Editions - in the future. The more the merrier, it seems, for Hoosiers who wish to
visit Indianapolis car dealerships
to get one of the best urban crossovers in the business today.
(Source: On Wheels: 2015 Jeep Compass, for that off-road look without the muddy fenders, The Washington Post, October 24, 2014)