Indianapolis may be a small-market city that is only a part of the 34th biggest metropolitan area in the country but its bustling roads reflect a rather dynamic economy and diverse culture. Wherever you are in this city, you don't stand a chance against the active lifestyle unless you have a fully functioning set of wheels. In fact, as a Hoosier who is most likely a fan of the Indianapolis 500, your yearning for a smooth and speedy journey must be innate.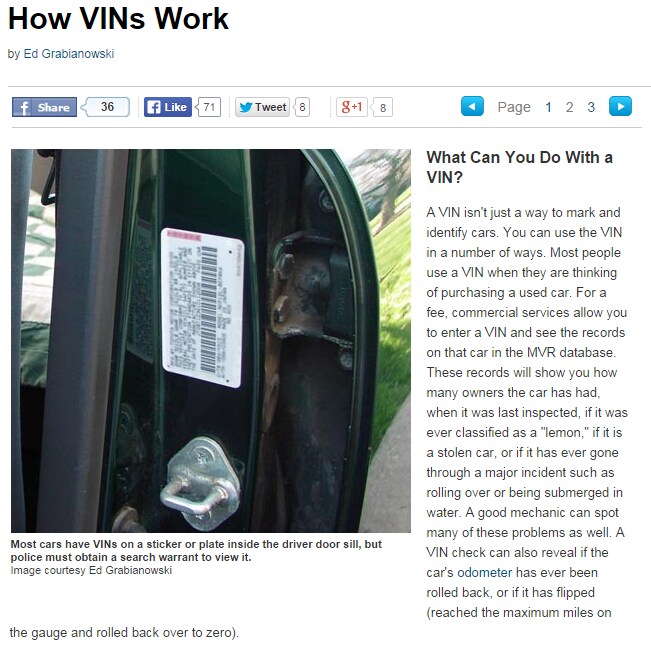 If you still don't have a car or you want to add a unit, consider buying a pre-owned car. Not only will this save you large sums upon purchase, it will also allow you to have a wide range of choices as the used car market continues to soar. However, when buying a vehicle, one extremely critical thing to remember is to check the vehicle identity number (VIN). This is what a lot of car buyers miss out on.
A VIN is the DNA or fingerprint of a car. It is a 17-character sequence that cannot be altered or replaced, at least in theory. Those characters tell a lot about a vehicle, including its nation of origin, manufacturer, make, and model. In short, just with the VIN, you can tell whether the car is of good quality or not. In an article for Howstuffworks.com, contributor Ed Grabianowski explains how important VIN is in preventing car theft.
VINs help deter car thieves, because they make it more difficult to resell the car. If someone checks the VIN, it will show that it the car was stolen, unless the thieves have altered it in some way. But it isn't especially difficult for car thieves to alter VINs. They frequently switch VINs, replacing the VIN in a stolen car with another car that they bought legally. Police use the VIN as a positive ID when looking for stolen cars, but thieves often cover up the dashboard VIN.
Buying a stolen car is a real dread for car buyers. They surely don't want to get associated with any legal issues concerning the vehicle they purchase. Additionally, some used cars, particularly those sold privately, come with defects that only show after purchase. This is why when buying used cars in Indianapolis, it's crucial to go to a reliable car dealership like Fletcher Chrysler Dodge Jeep RAM.
A trusted dealer of cars for sale in Indianapolis does not only sell high-quality pre-owned units; they are also transparent about VINs. They make sure that their clients will get their money's worth. Additionally, certified pre-owned units will have been fully fixed and maintained unlike other types of used cars.
(Source: How VINs Work, HowStuffWorks.com)