Despite Indianapolis' built-up neighborhoods shown by the crisscrossing pavements and roads, it hasn't altered some rugged landscapes at its edge to provide camping and fishing grounds for Hoosiers who love outdoor escapades. If you're up for a more thrilling adventure, you can actually go further toward some of Indiana's popular lakes, such as Patoka, Tippecanoe, and Wawasee.

A trip to Indiana's distant parks and lakes may not be as easy as driving across the city. Rough terrains and patchy roads may take their toll on your vehicle anytime. The best way to deal with uncertainties on the road is to drive a four-wheel vehicle like those offered by Indianapolis Jeep dealers. Unlike typical two-wheel drive vehicles, 4WDs can take on different kinds of terrain.

This amazing capability of a four-wheel drive vehicle is discussed in an article for YourOnlineMechanic.com. The author explains that since all wheels of a 4WD vehicle receive engine power, it is more capable of climbing steeper slopes and escaping rugged surfaces than a 2WD. In fact, a 2WD may not perform well in rough and rocky terrain even with a powerful engine because it's dragging two unpowered tires.

A 4WD vehicle also enjoys the benefit of longer-lasting tire thickness because, unlike a 2WD, all its tires are receiving the same load and friction. This means wear and tear is equally distributed to all tires rather than just two. This makes it more useful when going for long, bumpy journeys that subject the vehicle to constant skidding and instant braking. Some of the leading 4WD models include 2014 Jeep Wrangler and Jeep Grand Cherokee. Both comes with brawny exterior and plush interior, well-suited for a long camping and fishing trip.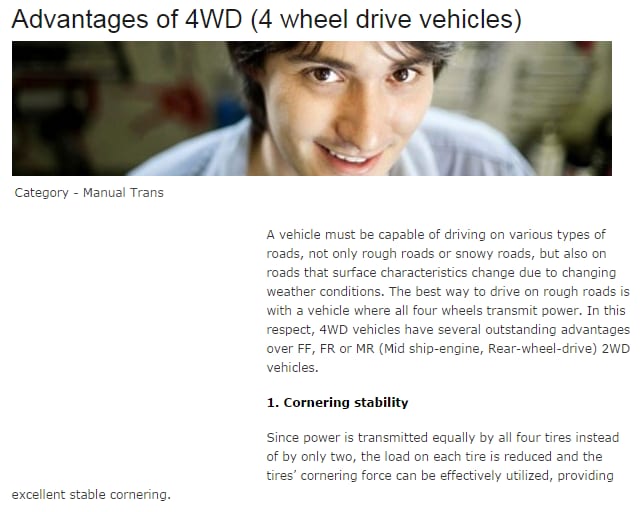 Meanwhile, as autumn slowly gives way to winter, the risk of slippery road related accidents also starts rising. Before winter even takes safety out of your driving, consider buying a Jeep Wrangler or Grand Cherokee from any of the numerous reliable Indianapolis dealerships today. You'll surely get acquainted with the latest safety features found in the new models, which can help make your journeys less risky.

When buying a car from a dealership, you need to be aware of the cars' differences in tire configuration in order to identify the 4WD. Just by looking at typical Jeep makes and models, you'll know these vehicles can deal with rugged journeys. Read reviews about the Jeep model you're fancying before shopping around to ensure the best b from dealerships like Fletcher Chrysler Dodge Jeep RAM.

(Source: Advantages of 4WD (4 wheel drive vehicles), youronlinemechanic.com)