Time and again, the Jeep Grand Cherokee has proven that no one can walk all over it. It's one of the sporty SUVs that was destined for off-roading, but it becomes a badge of pride and comes with an irresistible gruff appeal. If you're buying Indianapolis used cars with performance, versatile functions, and distinctive looks in mind, this is one car you ought to consider.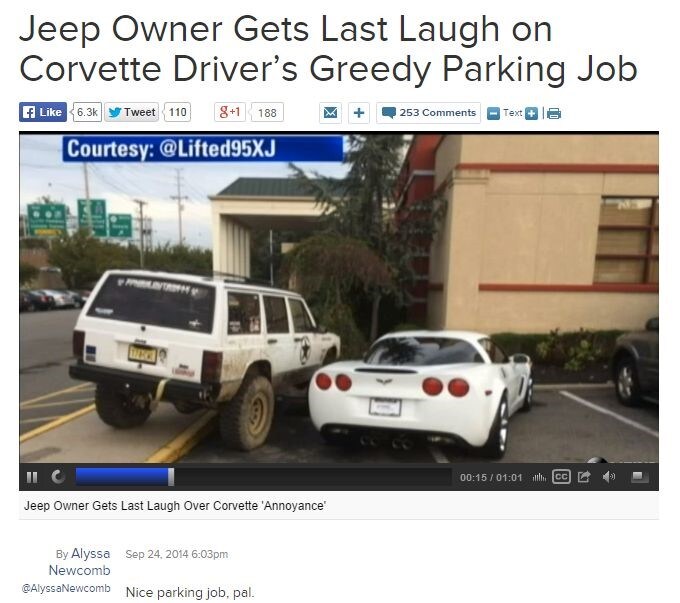 Despite its bulkiness, the Jeep Grand Cherokee handles well, especially for rough or uneven roads. Together with good tires, the traction you get from the four-wheel drive system and the weight gives you optimal control and acceleration. A vintage Grand Cherokee owner, for example, recently demonstrated this with his impressive parking skills. ABC News reporter Alyssa Newcomb has more on the story:
A New Jersey man got the last laugh on a Corvette driver who greedily took up two parking spots outside a Red Robin restaurant.

Instead of parking in the back of the crowded parking lot, Kyle DeMattia, 20, pulled his mud-covered Jeep partially onto the sidewalk, with the other part of his vehicle sharing a space with the sports car.

"The parking lot was packed except for a few spaces at the back and I could see people parking and walking by it in just plain annoyance," DeMattia told NJ Advance Media.

After the Corvette owner left, DeMattia said he was happy to move his Jeep and park it the way parking spaces are meant to be used.
DeMattia didn't leave even a single scratch on that Corvette. Aside from having precise driving skills, stints like these wouldn't be possible if the car used was too difficult to maneuver. Newer models kept (if not improved) this reliable quality, which makes the Grand Cherokee such a favorite for sporty or brawny drivers.
If you want sleeker or more modern exteriors and features, you may look at the more recent models, such as the 2014 Jeep Cherokee. The compact SUV design, roomy and comfortable interiors, and advanced infotainment systems make it appropriate as a family car. New or teen drivers would also be well-protected with its top-of-the-line safety features and bulky frame.
You can also find units with the powerful V6 or V8 engines if you want a speedier and more energetic driving experience. Used car dealerships near Indianapolis like Fletcher Chrysler Dodge Jeep RAM can help you shop for the Grand Cherokee model and specifications that suit your fancy.
(Source: Jeep Owner Gets Last Laugh on Corvette Driver's Greedy Parking Job, ABC News, September 24, 2014)