Do you want to spoil yourself with a muscle car? Although you might be ready to splurge on your purchase, you don't have to sacrifice comfort and everyday functionality. Washington Post columnist Warren Brown features one modern muscle car you ought to consider: the 2015 Dodge Challenger SRT 392. Brown basically described it as a practical, high-performance vehicle, minus the fuss and frills of other competing cars:
This is the way a muscle car ought to be - strong and authoritative minus any hint of adolescent narcissism. The 2015 Dodge Challenger SRT 392 coupe - it didn't have to brag about what it could do. It simply did it.

There were other things immediately likable about this one. Other sports coupes pride themselves on being "driver-centric," which is marketing-speak for selfie-mobiles, meaning they are designed and engineered to satisfy the comfort, ego and whims of the driver more than they are to serve the needs of anyone else brought along for the ride.

The Challenger SRT 392 is far more generous in concept. Its interior is designed to fully accommodate and please five people. You can take a crew or a family across the country in this one free of complaints from back-seat passengers.
The 2015 Challenger truly fits the bill as the perfect Dodge for Indianapolis residents who want some muscle. You get the impeccable power (and bragging rights) that come with owning a muscle car, but you also enjoy the steady handling, comfortable drive and ride, and the overall value that's distinctive of Dodge cars.
The Challenger makes room for your little ones, too. Traditionally, you won't drive muscle cars for everyday commutes and errands, especially when you have very young children as passengers. However, with this mildly ostentatious vehicle, strolling around the city would be acceptable. Its 305-horsepower, 3.6-liter V-6 engine keeps your speed in check (and lets you stay within urban restrictions), while up to three standard child-safety car seats can fit at the back of the roomy interiors.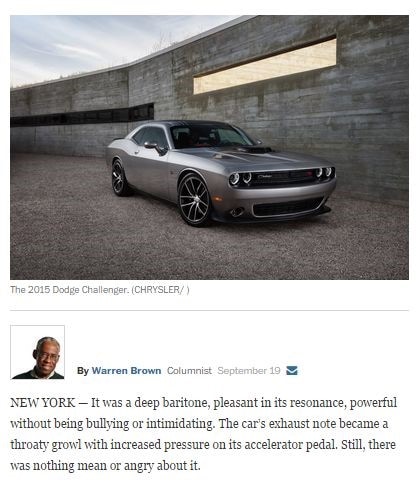 Like other exquisite, high-powered cars, the 2015 Challenger won't be found just anywhere, anytime, but established Dodge dealerships near Indianapolis like Fletcher Chrysler Dodge Jeep RAM can provide you the car at a great price. You can also browse the extensive inventory for other new or used quality vehicles that can give you the performance and luxury you want.
(Source: On Wheels: The fast and friendly 2015 Dodge Challenger SRT 392, Washington Post, September 19, 2014)