If you're thinking of buying a car in Indy, but you don't exactly have the funds for a brand new set of wheels, then you could opt for the next best thing: used cars. However, just because they're affordable, it doesn't mean that you could simply choose one for face value and drive off the lot with it. If you aren't careful, you might end up buying a lemon. Make sure that you take these tips into consideration when buying used cars in Indianapolis:
Check Your Laws
Before you even drop by the nearest dealership, you should already have a rough idea of your state's lemon laws. In Indiana, you can qualify for lemon law protection if you have received your car within the past 18 months upon the discovery of the flaw, drove fewer than 18,000 miles on it, and that you bought it mainly for personal use and not for resale.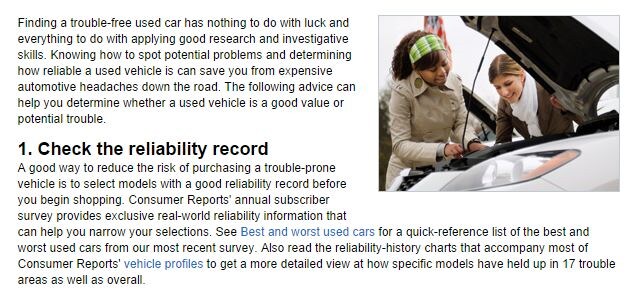 Look for Flood Damage
Look for signs of floodwater damage, as it is one of the main contributors of problems in used or pre-owned vehicles. Go inside the cabin and check for bad smells that suggest moisture or dried-up upholstery. Another sign is a dirty mark or waterline within the trunk or engine compartment, or even silt within the headlights.
Under the Hood
A Consumer Reports article writes about inspecting under the car's hood for signs of trouble:
With the engine cool, insure that all fluids are clean, filled to the proper level, and do not have leaks. Check the engine oil while the engine is cool. Remove the dipstick from its tube and clean it with a dry rag, reinsert it and remove it again. The oil level should be between the "full" and "add" marks. Normal engine oil is brown or black, depending on when it was last changed. Gritty or gelatinous oil may indicate long stretches between oil changes. Thin, frothy oil that's the color of chocolate milk may point to a blown head gasket or to a severely damaged block or cylinder head. Fine metal particles in the oil indicate internal damage or heavy wear.
Service History
Inspecting a vehicle's service history is a very important step. Ask the dealership for a comprehensive history list and find out how the vehicle was used by its previous owner. Don't be afraid to walk away from vehicles that have undergone a lot of strenuous jobs or repairs in the past.
Always keep in mind that choosing used cars for sale in Indianapolis should be given a lot of thought. Moreover, it's best that you only deal with trusted dealerships like Fletcher Chrysler Dodge Jeep RAM to significantly reduce your chances of purchasing a lemon.
(Source: How to spot a lemon, ConsumerReports.org)