Purchasing
trusty Indianapolis used cars
has its inherent advantages-that is, if all the important details are properly addressed. Conversely, one or more critical mistakes can turn a deal into a regrettable experience. As US News contibutor Liz Opstinik warns:
When you're shopping for a used car, one mistake can cost you a lot of money. Buying a vehicle that needs expensive repairs and not negotiating can mean the difference between saving money and spending more than you'd like.
Here are some of the most common mistakes that should be avoided when buying a used car.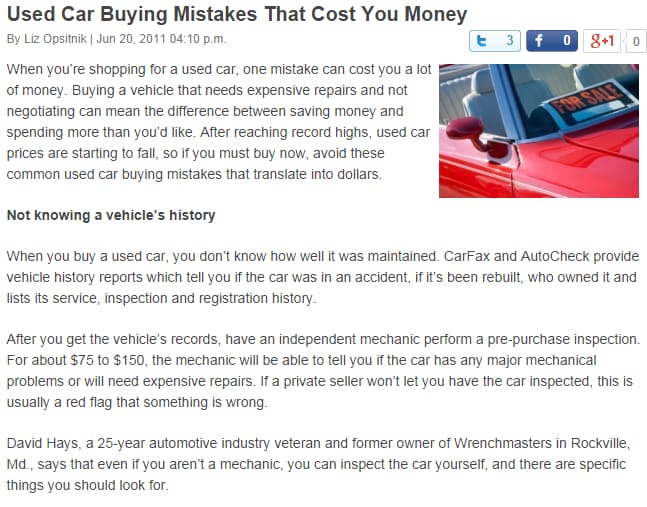 Buying by passion - A car, whether brand new or pre-owned, is considered an investment with potentially high stakes. "Being in love" with a particular make or model may overpower logical reason, and put a buyer in the mercy of an astute salesperson. For example, a buyer who sees his dream sports car for sale at a used car dealership might want to rein in the urge to buy it, if his intention is to get a practical family vehicle.
Forgetting research - To buy a used car without arming oneself of information regarding the vehicle's ratings, reviews, and overall reliability could be financial suicide. While experts recommend research prior to buying a brand new car, the need is greater for a pre-owned one. Buyers should learn as much as they can about a vehicle's history, including any previous accidents and previous owners.
Ignoring fuel efficiency - A car's fuel efficiency rating is gauged by the Environmental Protection Agency. Known as the EPA rating, the car's overall fuel economy is determinable through the user-friendly, government-powered website FuelEconomy.gov. While fuel nowadays may be cheap enough to ignore a vehicle's EPA rating, a gas-guzzler should be the least of a buyer's priorities in terms of practicality.
Focusing on monthly payments - By doing this instead of focusing on the overall selling price, a buyer might end up paying much more than what a car is actually worth. Low monthly payments may seem attractive enough, but when taken in total could come up much higher than what is reasonable.
Failing to conduct a test drive - The test drive is the ultimate acid test, more so for pre-owned cars. By conducting a test drive, the buyer can adequately gauge a vehicle's overall performance in specific conditions, and properly asses if the asking price is worth it.
Additionally, by going to trusted
used car dealerships in Indianapolis
like Fletcher Chrysler Dodge Jeep Ram, buyers can be assured they will be choosing only from an inventory of pre-owned vehicles that have been carefully screened and inspected before they were put up for sale.
(Source: Used Car Buying Mistakes that Cost you Money, US News, June 10, 2011)