So you want your car shopping to be as straightforward as possible. You want a simple choice that delivers it all in a single package: powerful, comfortable, and affordable. If this is the case then the all-American Dodge could be the one you seek, specifically the new 2014 Dodge Avenger SE.
The Avenger comes in three models: the SE, the SXT, and the R/T; the SE is the base-line model that could serve all your needs, while the rest are fancier versions promising better performance. The following excerpts from AOL Autos' review of the 2014 Avenger focuses on each release model's engine:
Avenger SE retails for hundreds of dollars less than the next competitive mid-size sedan, and it comes well equipped. Its 2.4-liter, 173-horsepower four-cylinder is strong and smooth, with acceleration performance that's better than adequate. With the 4-speed automatic transmission, the Avenger SE is EPA-rated at 21/30 mpg City/Highway. Avenger SXT models come with more equipment and a 6-speed automatic with the four-cylinder, increasing the EPA Highway rating to 31 mpg, for mileage ratings of 20/31 mpg.
Avenger R/T comes with the V6, a sports suspension and racy stripes and interior treatment.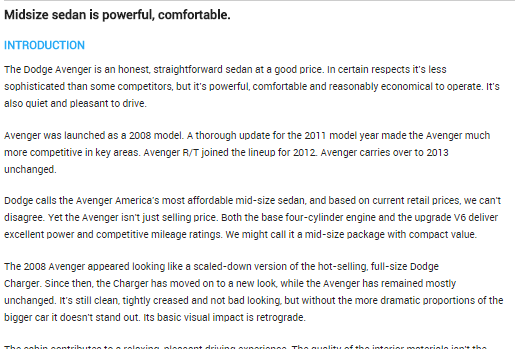 Looking around
Dodge dealership near Indianapolis
like Fletcher Chrysler Dodge Jeep RAM, you'll find it hard to match that power for its price point in sedans. Dodge calls the Avenger America's most affordable mid-sized sedan, and it more than provides bang for its buck.
After the engine, you'll want to look at the SE's basic features. Its exterior has the smooth, clean lines and sharp creases of the old Dodge Charger before its redesign. No surprise considering the Avenger was meant to be a cut-down version of the high-selling Charger. Additional features for the exterior are body-color door handles and 17-inch steel wheels.
The interior is nothing to sneeze at either. It has enough space to comfortably seat four at the rear, with a simple layout that lets people relax, while leaving plenty of leg and head room. The front passenger space is big enough to fit a console with a large storage box.
Finally, the SE drives well. The suspension is well-tuned and can provide a calm and relaxing ride, as well as smooth turns. Plus, the car has excellent safety ratings, with its automatic Brake Assist and Traction Control features offering extra protection.
The 2014 Avenger SE should give you enough reasons to make
driving a new Dodge around Indianapolis
an enjoyable and worry-free experience. Additionally, the car brand's reputation for durability will help ensure a profitable resale value, when it comes time for another change in your ride.
(Source: 2014 Dodge Avenger, AOL Autos)