There's nothing tastier than great BBQ, and if you're looking to make some the process is very long and involved, but the result is worth it. However, if you don't have a smoker or the time and energy it takes to make your own, why not check out some of the spots around Franklin, IN? There are plenty of restaurants that offer BBQ, but you'll want to check out the best around.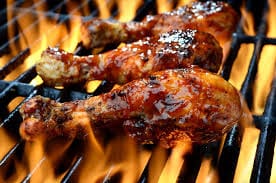 We came up with this list of the best BBQ near Franklin, IN that you'll want to try the next time you're in the moot for sweet, smoky, and savory BBQ. Don't forget your bib or hand wipes!
Indiana Smokehouse
2825 Middle Road, Columbus, IN Facebook Instagram
The key ingredient to good BBQ isn't sauce, it's smoke. That's the backbone, or rib, of the Indiana Smokehouse. This BBQ eatery serves up slow-and-low meat and treats with their expansive menu that includes all the classics like beef brisket, pulled pork, baby back ribs, and smoked chicken. They even offer fun sides like Smokehouse fries and Smokehouse spud, which includes a potato stuffed with meat, cheese, green onion, bacon, and chipotle sour cream. You can even order catering for your very own backyard BBQ!
Johnson's BBQ Shack
82 South Baldwin Street, Bargersville, IN Facebook Twitter
You can always go on the lookout for a great BBQ spot, or you could let it find you. Johnson's BBQ Shack is a well-reviewed brick-and-mortar location in Bargersville, but there's also a food truck that serves up the top menu items. They offer sandwiches and platters including your favorites like pulled pork, pulled chicken, boneless pork chip, hot dogs, or you could settle for some ribs.
Enjoy your dish with some baked beans, sweet corn casserole, homemade vinegar slaw, or even some mustard potato salad. Drop by the restaurant or track down the food truck to enjoy their tasty BBQ options!
King Ribs Bar-B-Q
3145 West 16th Street, Indianapolis, IN Facebook Twitter
If you've got an appetite fit for a king, you may want to swing by Kings Ribs Bar-B-Q in Indy. This offers plenty of tasty options like ribs, tips, chicken, pork, and beef. You can get a meat plate, Bar-B-Q on a bun, or a full meal. They've got plenty of sides to choose from like BBQ greens, coleslaw, potato salad, and of course, mac and cheese. Don't leave without taking home the award-winning Kings Ribs BBQ Sauce, available in both hot and mild.
When you're seeking out some tasty BBQ, you've got a few of the best spots near Franklin, IN to check out!