When you're starving, there's nothing that can quench your hunger quite like a juicy burger. Regardless of the toppings or secret sauces, burgers are a strong go-to—because they're always satisfying! However, if you're in a particular mood for a really great burger, you may want to avoid the drive-thru lines and head somewhere that puts the extra effort in to create a delicious and one-of-a-kind burger.
That's why we compiled this list of the places to get the best burgers near Franklin, IN.
Between the Bun
102 South Madison Avenue, Greenwood, IN Facebook Twitter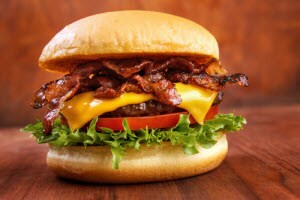 You know exactly what you're getting into when you drop by Between the Bun in Greenwood. This burger joint excels at providing their diners with delicious and satisfying burgers. They've even been voted "Best Burger in Indy" by the Indy Star. You've got plenty of options to consider with plenty of meaty choices that will certainly satisfy your hunger. The Spitfire Ranch Burger is served on Texas toast and includes pepper jack cheese, sautéed onions, jalapenos, and smoked bacon, all drizzled with their signature Spitfire Ranch sauce. They even have a PB&J Burger that combines sweet and savory flavors for a memorable bite.
Murphy's Pubhouse
6120 East Thompson Road, Suite F, Indianapolis, IN Facebook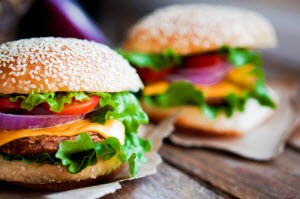 When you're looking for the classic pub experience with your burger, you may want to check out Murphy's Pubhouse. This pub offers all the bar food and fare that you can expect, however, there are a few tricks up their sleeve when it comes to the menu items. While they're known for their Hoosier Pork Tenderloin Sandwich, you're here to dine on some burgers. Each burger is ½ pound, so you know that you're in for a hefty sandwich. They've got a BBQ Bacon and Cheddar burger, the Chili Cheddar burger, the Surf-n-Turf Supreme burger, and the Challenge, which consists of 2 patties—so, finishing this monster is easier said than done!
The Tailgate
8028 South Emerson Avenue, Suite V, Indianapolis, IN Facebook
The great thing about the burgers at The Tailgate is that you won't have to worry about your toppings falling off, because they're stuffed inside! The Stuffed Tailgaters are juicy burgers that can be filled with toppings like mushroom and Swiss, pepper jack and jalapenos, bleu cheese and bacon, and even pepperoni and mozzarella. Of course, you can also get a burger how you like it, with the cheese and accoutrements on top.
The next time you're in the mood for a tasty burger, don't order from your car. Instead, head to any of these great eateries that serve up the best burgers near Franklin.